Standards
Total capacity (liters)   

535 ℓ

Net width (millimeters)   

795 mm

Net height with hinge (millimeters)   

1920 mm

Net depth with door handle (mm)   

745 mm

Cooling type   

Triple Cooling
Specification details
Total capacity (liters)   

535 ℓ

Refrigerator capacity (liters)     

345 ℓ

Freezer capacity (liters)     

190 ℓ
Net width (millimeters)   

795 mm

Net height with hinge (millimeters)   

1920 mm

Net depth with door handle (mm)   

745 mm

Net depth without door handle (millimeters)   

745 mm

Net depth without door (millimeters)   

654 mm

Packaging width (mm) :

864 mm

Packaging height (mm) :

2050 mm

Depth of packaging (mm) :

818 mm

Net weight :

113 kg

Package weight (kg) :

122 kg

20/40 / 40H (container) :

12/28/28
No Frost :

Yes

Multiple cooling air flow :

Yes

Cooling type :

Triple Cooling
Refrigerator-freezer features
Number of shelves (total) :

4 EA

Shelf material :

Reinforced glass

Number of drawers for fruits & vegetables :

3 EA

Number of door cases :

8 EA

Egg case (tray for eggs) :

Yes

Quick cooling function (in maintenance) :

Yes

Freshness drawer :

Yes

Interior lighting :

Lighting with Top Pillar technology
Multi-function space (℃)

-23 ~ -18, -5, -1.3 ° C

Shelves :

1 EA

Drawers :

2 EA

LED interior lighting :

Yes
Ice machine :

Ice box

Number of shelves (total) :

1 EA

Number of drawers :

2 EA

Number of stars in the freezer

4 Star

Interior lighting :

Yes

Quick cooling function (in the freezer) :

Yes
Open door notice :

Yes

Coolant :

R600a

Compressor :

Digital Inverter Compressor

Smart Support :

Yes (with USB Wi-Fi Dongle)
screen type :

Light blue LED

Door handle :

With recess

Colour :

Elegant Inox
Energy efficiency class :

F

Noise Level :

40 dBA

Climate category :

SN, N, ST, T

Freezing capacity :

10 kg / 24hr

Energy consumption :

401 kWh / year
Revolutionary
triple cooling system
The Triple Cooling system controls and optimizes the temperature independently, maximizes the humidity and prevents the mixing of odors from its 3 parts.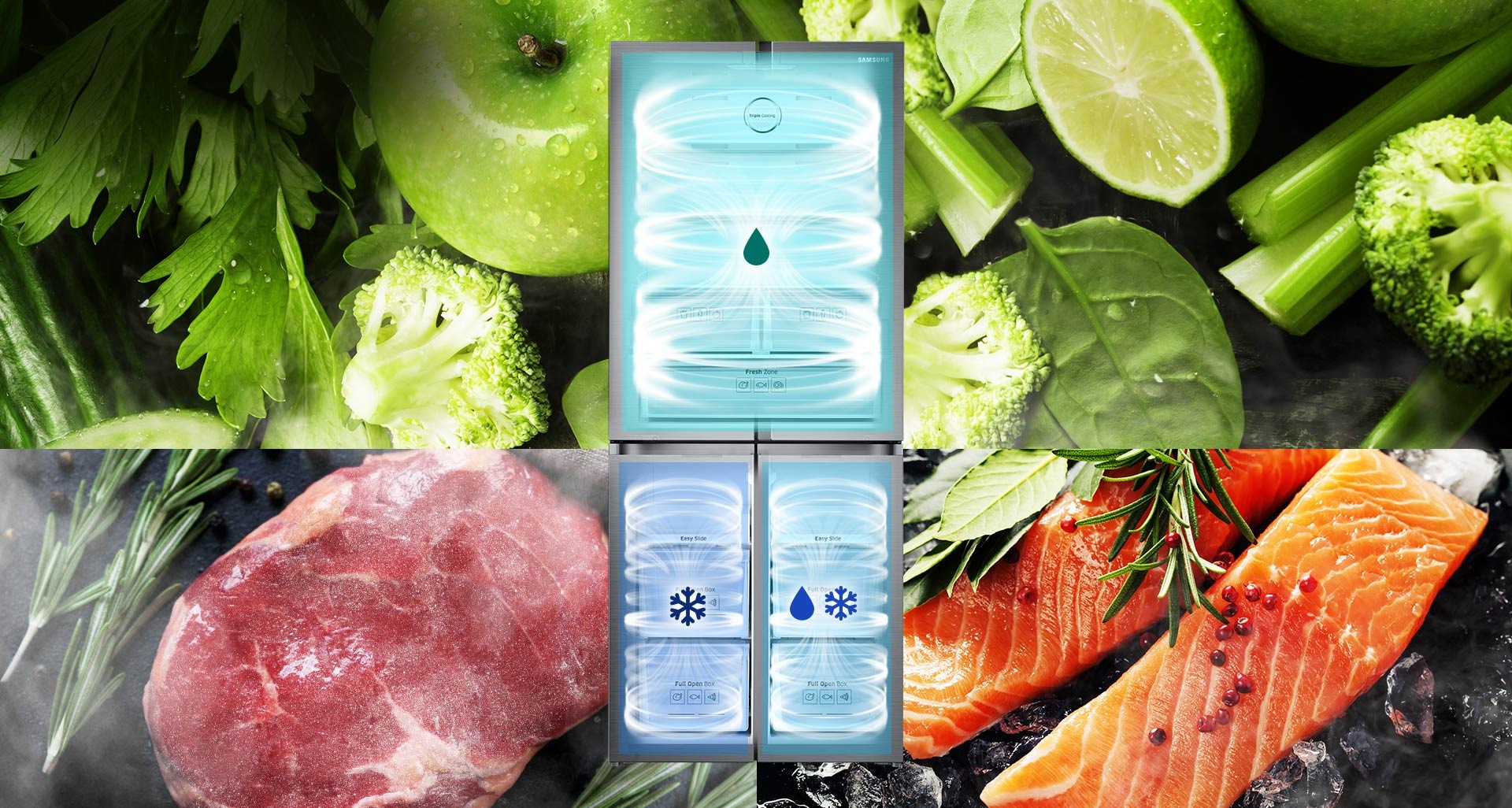 Maintains the proper freshness of food
To keep food fresh for longer, Precise Chef Cooling technology minimizes temperature fluctuations to just ± 0.5 ° C * by regularly detecting changes and then precisely controlling the operation of the inverter.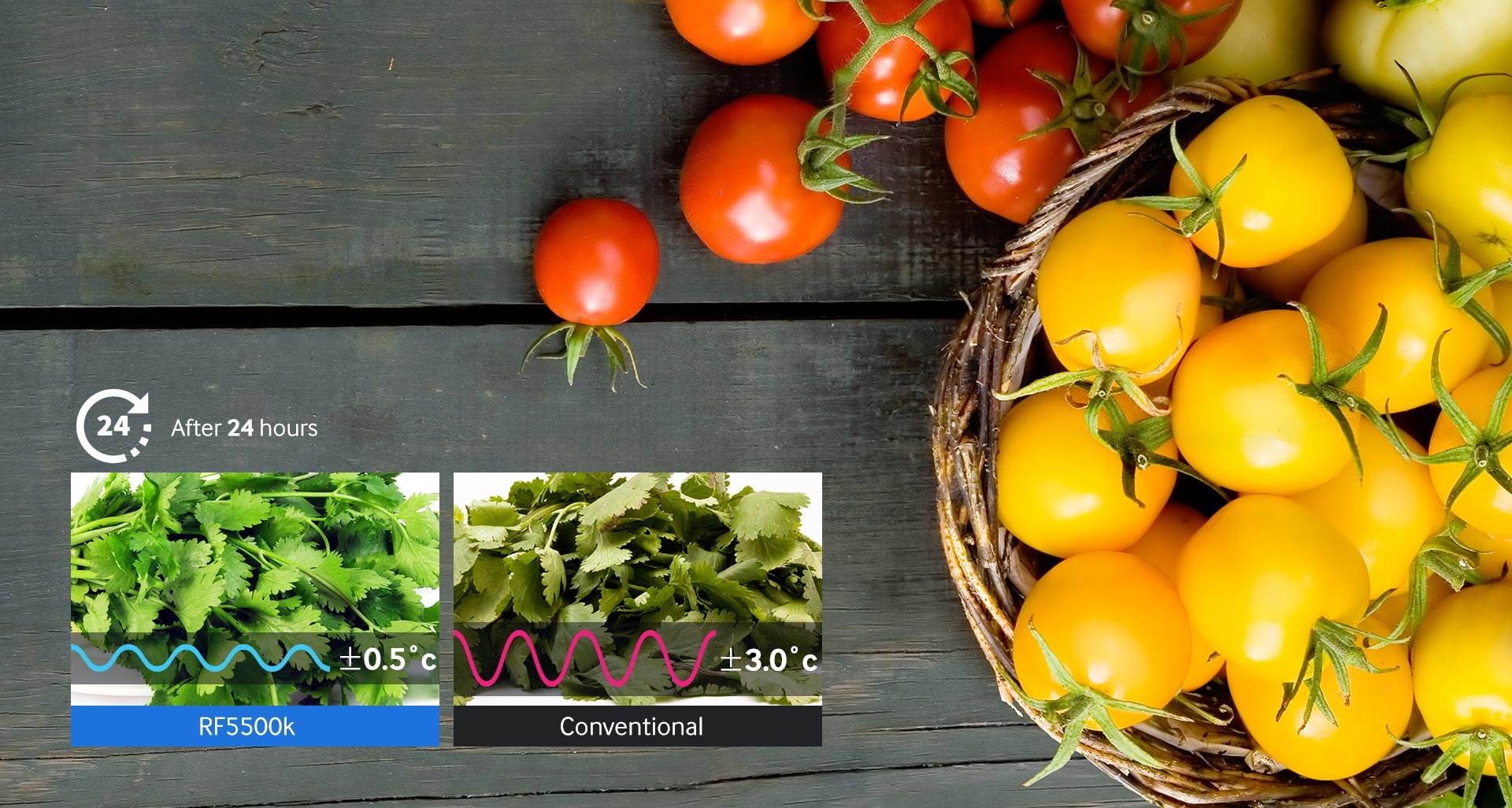 * Based on internal tests. Compared to conventional Samsung models with a variation of 3 ° C.
More space according to your requirements
The CoolSelect Plus zone offers flexibility in storing food to keep it fresh. With one touch, this space can be easily converted from a refrigerator to a freezer, with four temperature settings.
Excellent care for
meat and fish
The Fresh Zone is a cleverly designed drawer that offers the ideal conditions for storing meat and fish, keeping them at the right temperature, so that they stay fresh and have the best possible taste.
Modern design and comfort
The premium T-type design allows you to comfortably use every corner and store much larger items, as it is much easier to place, organize and find items. Its modern design is very modern and elegant.
Store and organize your food
The large capacity of 500 liters provides enough space in the refrigerator and freezer to store more items and ensure their good organization. All 4 doors open wide, so you can see everything at a glance.